RightMark Audio Analyzer is updated to 6.4.5.
What's new in RMAA 6.4.5
added Pro Tools HD/HDX compatibility, that uses Float32LSB ASIO I/O format.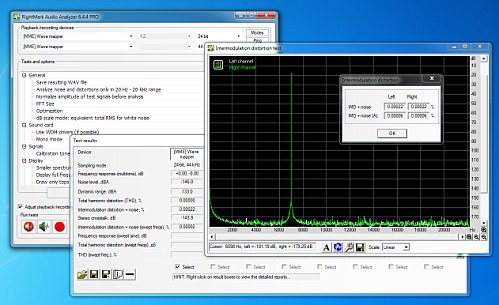 RMAA 6.4.5 and instruction in English is available for free in the Download section. Please use "Run as Administrator" by right mouse button to install RMAA.
---
The RMAA 6.4.5 PRO is also available with a number of features not present in the freeware version. Updates from any older 6 PRO version are free of charge. Use the same link when you bought PRO version. If you have no PRO version yet, may be it is a good time to upgrade your RMAA.
RMAA PRO features:
4 times more detailed spectrums (FFT Size option);
changable test parameters in test options;
GUI skin support (15 skins bundled).

RMAA 6.4.5 PRO is available now. We use secure PayPal system to get a payment.
Price is 1600 RUR (equal to 25 EUR). Possible minor currency convertation. After the payment you will be provided with instruction how to get and activate your PRO version. Buying PRO version you are supporting our R&D. Thanks to everyone who already supported us!
If you have any questions, please feel free to contact us by mail.