The essence of RightMark 3DSound is the creation of an independent synthetic audio test for estimating hardware and software capabilities of DirectSound-compatible devices.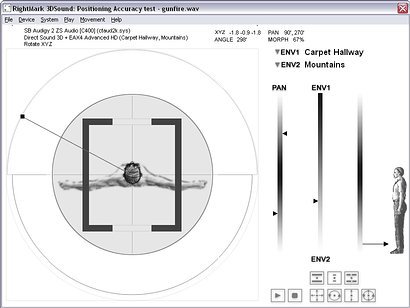 The test includes:
RightMark 3DSound: Positioning Accuracy test
Tests audio source positioning quality in DirectSound3D. Requires subjective listening to a 3D audio scene with a user-controlled moving sound source. Supports all key features of EAX4 Advanced HD.
RightMark 3DSound: CPU Utilization test
Measures CPU load depending on DirectSound device mode. Synthetically emulates main cycle of a typical ingame sound engine. Besides standard DirectSound diagnostics checks for supported EAX version.
RightMark 3DSound: Data Analyzer
We use statistical data processing to exclude influence of random OS activity bursts and also to get more information on CPU load. This provides us not only with average values (mean of distribution), but also with their dispersion (standard deviation).